Who am I?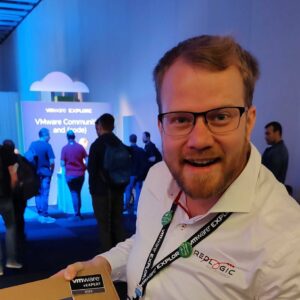 I'm Bart Oevering an Infrastructure Consultant working for RedLogic. I've been working at RedLogic since September 2018 and what a trip it already has been! I had a massive learning curve for the VMware products since, up till that point, I didn't work with any of the VMware products yet. During my studies (intermediate vocational education and university of applied science), I got certified in Citrix XenApp 5.5 and Citrix XenServer 5 but in VMware? No, I didn't do anything with VMware so I was up for a treat- more about that in future blogs.
In 2007 I started my intermediate vocational education at the Deltion College in Zwolle. There I followed the study 'Systemadministrator' or 'Systeembeheerder' in Dutch. The Deltion College invited me to join the SkillMasters competition organized by ECABO and I managed to get second place in the preliminary rounds for North/North-East Holland. In 2014 I started with the study 'System and Network Engineering' at the Hogeschool Utrecht. I really enjoyed my time there and I was fortunate to have a highly motivated study group. By 2018 I graduated with an average grade of 7.8 (4.0 GPA). After I finished my studies I decided to start looking for a job. I had a short search and decided to go for RedLogic because the atmosphere in the team felt really nice and the projects that I would work on sounded even better.
What am I doing when I'm not working?
When I'm not busy with something work-related I love to go out on an adventure. For a couple of years now, I really love to go climbing. I hope that when the global pandemic settles down, I'll get the opportunity to go out more and climb some nice routes or to go bouldering outdoors. Hopefully, it'll go better than last time when I fractured a bone in my foot. Since March 2020 I had more time, as I didn't need to travel to work anymore, and I discovered that I also enjoy other sports like walking, running, or biking. During the summer holidays, I also enjoyed walking/hiking abroad with my girlfriend.
Besides the physical activities, I also started to vlog for RedLogic (YouTube) and realized a plan that I had for a while: my own blog. In my blogs, I will share some technical knowledge with you and also store some thoughts/ideas. I'm currently running two physical servers (check out this post) in the datacentre and enjoy building configurations or scripts that help me in my day-to-day life. This blog will not only be about VMware but could also be about VyOS and upcoming certifications or topics like home automation.
My certifications
Since I'm working for RedLogic I've obtained a lot of additional knowledge. Here are the certifications that I managed to pass so far (last updated: 03-2023):
VMware Network Virtualization
VMware Datacenter Virtualization
VMware Others
Cisco Certification
Palo Alto Networks
Cloud Certification